Since my last blog post about my Homelab is now a little over a year ago I would like to give you an update on what has changed in the meantime.
From my point of view, I have already built my Homelab a year ago "rock-solid", so the changes are not fundamental but rather slight improvements.
The most noticeable change is certainly the replacement of my two US-16-XG switches. I replaced them with a USW-Aggregation-PRO switch.
Additionally, I replaced one of my HP Microserver Gen8 with an HP ProLiant ML310e Gen8 v2. Because I wanted to have a server for my primary NAS with a "real" SAS controller and accordingly more performance. The new server also has 4x SAS 12Gb/s HDDs instead of SATA. In addition, more RAM is available so that I could place more services such as Veeam Backup & Replication on this server, so I also changed the operating system from Synology to Windows Server 2019.
Below you will find a high-level overview of my Homelab as of February 2023:
Updated BoM of my Homelab:
Ubiquiti Unifi Network Infrastructure, UDM-Pro, Unifi Switch Aggregation, Unifi USW-Aggregation Pro, USW-24-PoE, USW-Flex, 10Gbit Core Network, 3x Unifi U6-LR Wifi, 1x Unifi U6-Pro Wifi
3x HPE DL380 Servers 768GB RAM, 3x 1,6TB NVME (vSAN Cache), 12x 960 GB SSD (vSAN Capacity), 4x 10Gbit Ports per Server, 4x Nvidia Tesla P4 Graphics, 1x Nvidia Tesla M10 Graphics
1x Windows Server 2019 as main NAS System ProLiant ML310e Gen8 v2, 4x 4TB HDD, 2x 10Gbit Ports
1x TrueNAS HPE Microserver Gen8, 2x 10TB HHD, 2x 12TB HDD, 2x 10Gbit Ports
Bold = Updated
Implemented Products & Solutions due February 2023
-VMware vSphere 8.0 with vSAN
-VMware Aira Identity Manager
-VMware Aira Lifecycle Manager
-VMware Aira Operations
-VMware Aira Log Insight
-VMware Aira Cost
-VMware Aira Automation with Orchestrator
-VMware Unified Access Gateway
-VMware Horizon (yes I can access my Lab/Cloud from everywhere in the World)
-Nvidia Grid (vGPUs in my VDI VMs)
-VMware NSX
-VMware Tanzu (Nested) // used in CC VMware Tech update in November & December 21
–VMware Cloud Foundation (Nested)

-Microsoft Active Directory
-Microsoft DNS-Server
-Microsoft SQL-Server
-Microsoft Certificate Authority

-Veeam Backup & Replication
-Grafana Monitoring
-Docker Swarm
-Kubernetes Cluster
-Cloudflare Tunnel
-Netapp Ontap Simulator
-Cisco UCS Simulator
-Arista EOS Simulator
Sneak Peak to my vCenter in February 2023: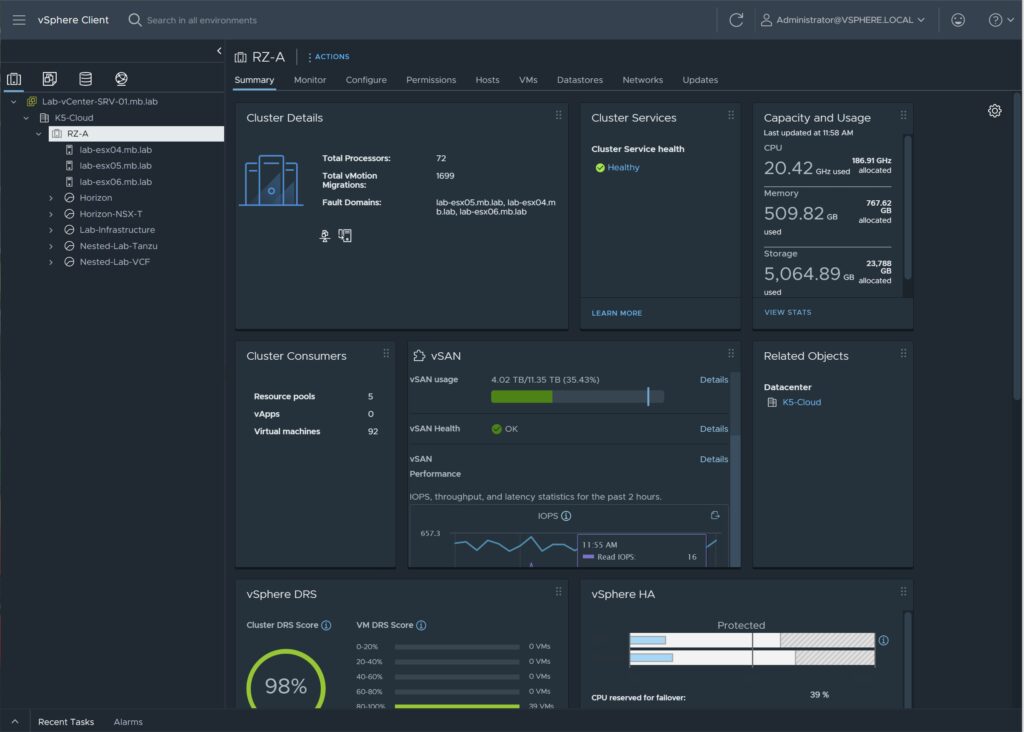 I also monitor the downside of running an extensive home lab myself – the power consumption and associated costs: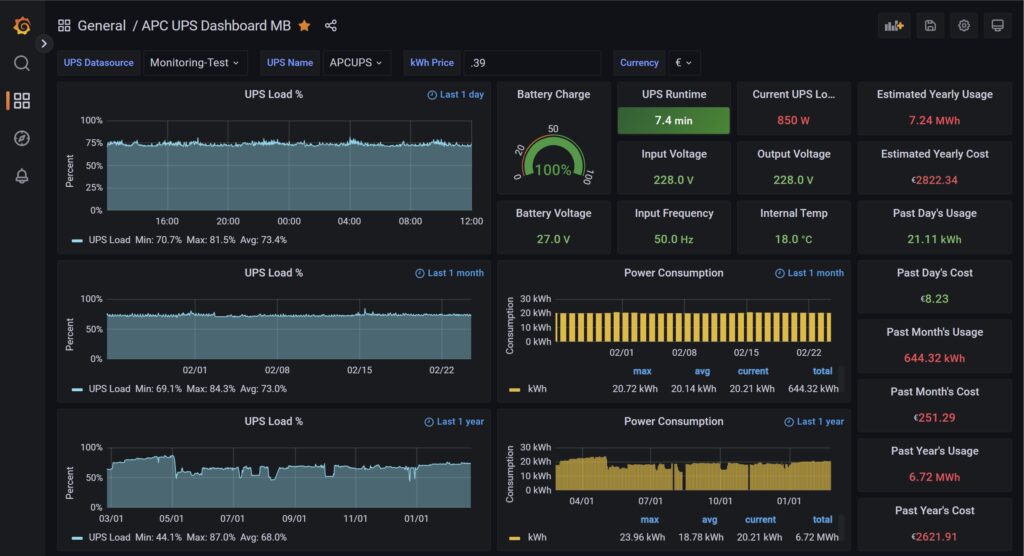 as you can see, the kilowatt hour in Germany in my case now costs 39 cents and I need about 22-kilowatt hours per day, which means my Homelab currently costs me almost 8.50 euros a day, which is not very amusing and I am currently also thinking about where I can save equipment.
If you have read this far in the text, you will surely have come to the conclusion, if you have followed my Homelab story from the beginning, that so much hardware has not changed in the colleague's lab & yes, that's exactly right, because I have spent the last two years mainly with the software from VMware and my lab was already solidly built up.
The following products from VMware were in focus for me:
-VMware Cloud foundation with the associated included products such as NSX(-T).
-VMware Aira (vRealize) Automation
-VMware Horizon
-Azure VMware Solutions
Therefore, last year there were mainly blog posts on these topics, as far as my time allowed, because I was almost fully booked with my customers on the road.

If you want to see how it went on in my Homelab please have a look at Homelab Version 2.5
You can find my blog posts from last year and this year listed here: