Hello together,
As they say in Homelab, nothing is as constant as change. Therefore, this month there is already another update from my Homelab.
I finally got around to making some topology changes that I had in mind for a while.
Therefore I proudly present to you today my second data center for my Homelab!
Finally, I managed to extend the 10Gbit connection from the basement to my office, so now a part of my office is 2nd datacenter 😉
Currently, it consists of my backup server and a 10Gbit switch. Of course, my office also contains my work notebook and my personal workstation.
As always pictures say more than words, so I redrew the whole thing and you can find it below: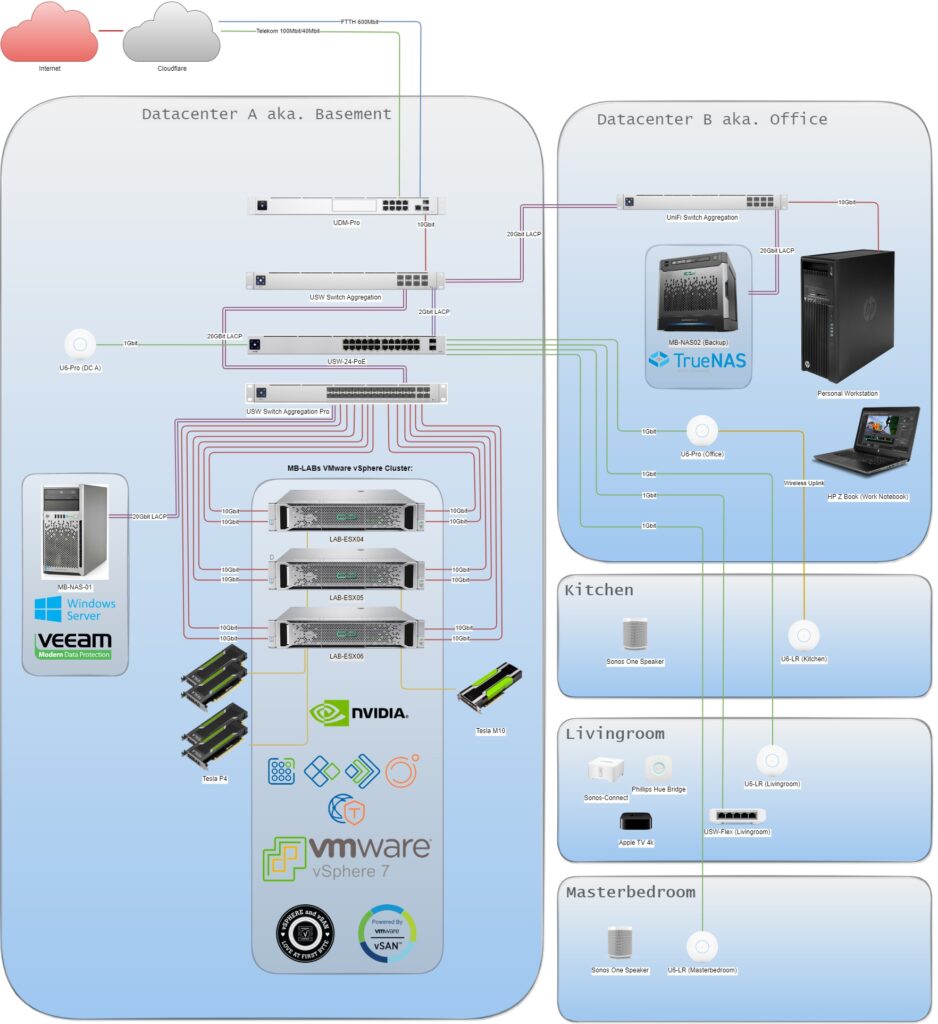 as you may have seen, I also started to visualize the rest of the IT equipment that is in each room, so I don't lose track of what I'm doing in the meantime.
In addition, I improved my WLAN coverage and installed an additional WLAN access point in my basement to have good coverage around my rack as well.
Updated BoM of my Homelab March 2023
Ubiquiti Unifi Network Infrastructure, UDM-Pro, 2x Unifi Switch Aggregation, Unifi USW-Aggregation Pro, USW-24-PoE, USW-Flex, 10Gbit Core Network, 3x Unifi U6-LR Wifi, 2x Unifi U6-Pro Wifi
3x HPE DL380 Servers 768GB RAM, 3x 1,6TB NVME (vSAN Cache), 12x 960 GB SSD (vSAN Capacity), 4x 10Gbit Ports per Server, 4x Nvidia Tesla P4 Graphics, 1x Nvidia Tesla M10 Graphics
1x Windows Server 2019 as main NAS System ProLiant ML310e Gen8 v2, 4x 4TB HDD, 2x 10Gbit Ports
1x TrueNAS HPE Microserver Gen8, 2x 10TB HHD, 2x 12TB HDD, 2x 10Gbit Ports
Bold = Updated
So far up to here, as one or the other surely already saw I use Cloudflare in the meantime for my Internet Outbrake and services of my Homelab to make accessible external, so I will try to create a blog post about it in the next few weeks to provide you with details here. Small sneak peek it is really cool to have services externally reachable and you don't have to worry about a single port opening.
If you are interested in more topics, feel free to give me feedback or use the contact function of my site here.
Thanks a lot and until then.