In October 2020 after attempting a VMware Training from my Colleague, Mentor & Supporter Marc Huppert (VCDX#181) my former Homelab Version 1.0 needed an urgent update as I wanted to implement more Products from the VMware Portfolio to gain my knowledge in vRealize-Suite products and NSX-T.
So I decided to go more enterprise-like with my homelab infrastructure, I went all-in for my circumstances as i switched my complete network infrastructure to Ubiquiti´s Unifi Products with a 10Gbit core network for my future VMware vSphere / vSAN Cluster consisting of three HPE DL380 Gen9 Servers. Additionally, I upgraded my existing main NAS-System Xpenology/Synology HPE Microsserver Gen8 with 10 Gbit Network-Card. To have also a proper backup solution in place I'm using a second HPE Microserver Gen8 with TrueNAS as Backup-Storage for Veeam Backup & Recovery also connected with 10Gbit to my core network.
As pictures a telling more than thousand words here we go:
Detailed BoM of Homelab 2.0 can be found here.
Implemented Products & Solutions due June 2021
-VMware vSphere with vSAN
-VMware Identity Manager
-VMware vRealize Lifecycle Manager
-VMware vRealize Operations Manager
-VMware vRealize Log Insight
-VMware vRealize Business Server
-VMware vRealize Automation with Orchestrator
-VMware Unified Access Gateway
-VMware Horizon (yes i can access my Lab/Cloud from everywhere in the World)
-Nvidia Grid (vGPUs in my VDI VMs)
-VMware NSX-T
-VMware Velocloud

-Microsoft Active Directory
-Microsoft DNS-Server
-Microsoft SQL-Server
-Microsoft Certificate Authority

-Veeam Backup & Replication

-Grafana Monitoring
-Docker Swarm
-Kubernetes Cluster
-Netapp Ontap Simulator
-Cisco UCS Simulator
-Arista EOS Simulator
Power Consumption since monitoring was started on April 21

vCenter View in June 21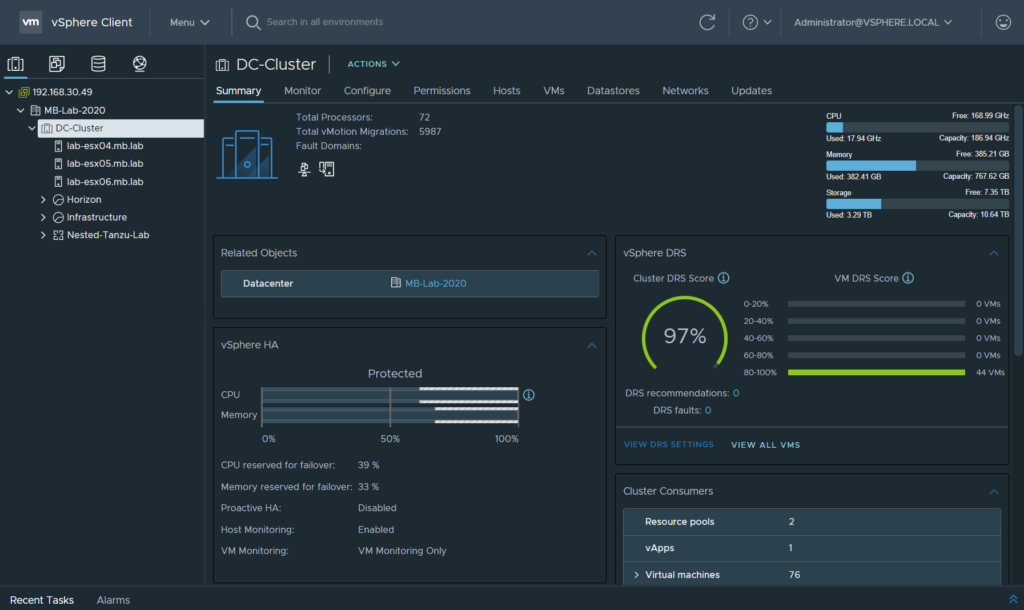 Physical view of my Homelab/Cloud
since a Homelab is constantly evolving, I would like to tell you about the changes in 2021, or you can read about it on the following page Homelab Version 2.1